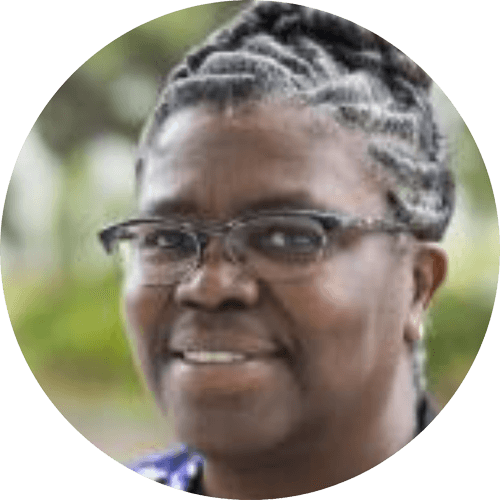 Evelyn L. Lewis M.D., M.A., FAAFP, DABDA
Dr. Lewis earned her medical degree from the University of the Health Sciences, the Chicago Medical School (Rosalind Franklin University of Medicine and Science) and completed a residency in family medicine at Naval Hospital Jacksonville, Jacksonville, FL. She completed a two-year faculty development fellowship at Madigan Army Medical Center and Pacific Lutheran University and earned a Masters degree in the Social and Behavioral Sciences. In June 2003, Dr. Lewis retired from the United States Navy after 25 years of service. During the next seven years, Dr. Lewis was Director Medical Policy World Wide Public Affairs and Policy for Pfizer, Inc. She is a co-founder of Warrior Centric Health, LLC and currently serves as Chief Medical Officer; President & Chairman Veterans Health and Wellness Foundation and immediate past Board Chairman for the National Children's Center. She is an Adjunct Associate Professor, Department of Family and Community Health, Rutgers Robert Wood Johnson Medical School and Clinical Instructor, Rosalind Franklin University of Medicine and Science, appointee to the Department of Veterans Affairs Advisory Committee on Disability Compensation; member Engagement Panel Department of Veteran Affairs, Health Services Research and Development's Pain/Opioid Consortia of Research and serves as the American Academy Family Physician's Delegate to the American Medical Association House of Delegates.
Previous positions include Senior Researcher in Minority Health and Health Disparities Dillard University; President American Academy Family Physicians Foundation; past Chair, AAFP Research Committee, Deputy Director, W. Montague Cobb/ National Medical Association Health Institute; Deputy Vice President for Minority Affairs; Director of the University Health Center; Vice Chair, Department of Family Medicine; Associate Chair for Research, Department of Family Medicine; and teaching faculty at several residency-training programs. During her tenure at the Uniformed Services University, she was awarded a Project EXPORT grant from the NIH Center for Minority Health and Health Disparities. Her professional and research interests include the impact of culture and cultural competency on health and healthcare outcomes; Women's health; the impact of military service on service members, Veterans and their families; education and training of healthcare professionals; health management and disease prevention; community outreach and engagement; health and healthcare disparities; health policy, and clinical trials and minority participation.
Dr. Lewis is nationally recognized for her expertise in the areas of Community Outreach, Engagement and Enablement, Veteran Health and Healthcare Issues, Content/Program Development and Evaluation, Cultural Competency, and Health and Healthcare Disparities. She presents and conducts workshops on those topics and other medical specialty areas nationally and internationally and has been tapped as a speaker by many organizations and associations to include: National Association Corporate Directors (NACD), Chicago Medical School, Highmark Blue Cross Blue Shield, National Medical Association (NMA), American Medical Association (AMA), American Academy of Family Physicians (AAFP), American Academy of Family Physician Foundation (AAFPF), Albany State University, Uniformed Services University, Spelman College, Price Waterhouse, Rutgers Robert Wood Johnson Medical School, World Organization of Family Doctors (WONCA), Women of Vision, National association of Women Owned Small Businesses, Congressional Black Caucus, American Federation of Teachers, National Black Caucus State Legislators, National AFL-CIO, A. Phillip Randolph Institute, and legislative briefings at the national, regional and local levels.
Dr. Lewis is a Senior Scientist/Investigator for the American Academy Family Physicians' National Research Network, Fellow of the NACD, and the AAFP, a member of several organizations and medical associations to include the American Academy of Family Physicians, the American Academy of Family Physicians Foundation, the NMA and AMA. Her military decorations include the Defense Meritorious Medal, Joint Service Commendation, the Navy and Marine Corps Achievement medal. Navy Sea Service Deployment, Navy and Marine Corps Overseas Service with bronze star, and the Coast Guard Special Operations Service medal.
Some of her most significant awards and honors include: Keynote speaker at the Chicago medical School 2019 White Coat Ceremony, Rosalind Franklin University of Medicine and Science 2018 recipient of the Distinguished Alumnus Award, Top Blacks in Healthcare Award, State of Maryland House of Representatives Proclamation for launch of the nation's first authorized Warrior Centric Healthcare Clinic; State of Tennessee House of Representatives Proclamation for co-development and instruction of the Warrior Centric Healthcare Training Solution; the Center for Disease Control (CDC) Agency for Toxic Substances and Disease Registry (ATSDR) Blacks in Government (BIG) Chapter Black Women Rock Award in Business; publication of her story, "Keeping the Dream Alive", one of three published in the Medicine and Natural Science section of the recently released book entitled, Women of Color in Leadership, Taking Their Rightful Place; W.E. Upjohn Award for Innovation; Career Communications Group, Women of Color Emerald Honor for Medical Education Award; and One of nine Family Physicians profiled in the American Academy of Family Physicians 50th Anniversary Book, Caring for America – The Story of Family Practice. Dr. Lewis' most recent publications include the book entitled, "Blacks in the Military and Beyond" and the 5th edition of "Current Diagnosis & Treatment in Family Medicine."